Reprinted from BBC News: Election 2015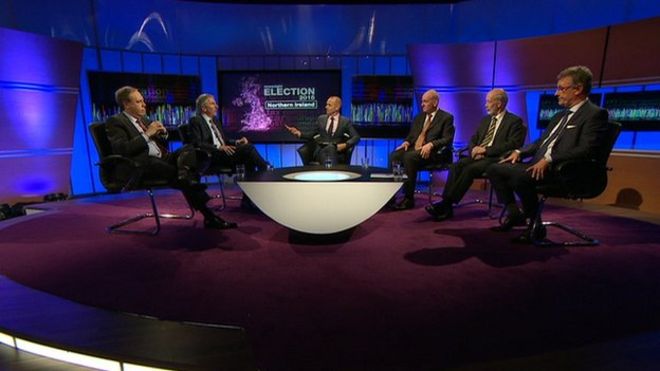 Five political parties from Northern Ireland have taken part in a television election debate in Belfast.
Nigel Dodds, of the DUP, Sinn Féin's Máirtín Ó Muilleoir, Ulster Unionist leader Mike Nesbitt, the SDLP's Mark Durkan and Alliance leader David Ford participated.
They discussed social affairs, tactics, and who each party would support in the event of a hung parliament.
There was discussion around same sex marriage and the Asher's Bakery case.
The debate was broadcast as part of the BBC Newsnight programme and hosted by Evan Davis.
On Thursday, Liberal Democrat leader Nick Clegg warned of a "bluekip" allegiance of the Tories, UKIP and the DUP who would oppose gay rights and support the death penalty.
This was put to Mr Dodds and he was asked why his party supported a conscience clause.
"Everybody needs to be treated equally," he said.
"There should be no right to discriminate against anybody, but it's about reasonable accommodation," he said.
The budget was also a big issue and Mr Nesbitt said it was important tackle the debt and focus on creating more jobs.
Reduce deficit
"At the moment, the Treasury is spending more servicing the debt than it spends on public services in both Wales and Northern Ireland," he said.
"So we can't ignore it, we're leaving £55,000 of debt for every household in the UK. That has to be tackled."
Mr Ford said it was important to try to reduce the deficit but that it should not be done by continually cutting services.
"We have to live with what exists across the UK," he said.
"We also need to ensure that within Northern Ireland's own budgeting we don't go for what the executive is currently doing, which is making all the changes by cuts in services."
The discussion moved to who the Northern Ireland parties would support in the event of a hung parliament.
The DUP and the UUP said they could support either government.
Welfare reform
Mr Durkan, SDLP, said they would continue to back Labour, but not on every vote.
"Labour know that both in government and in opposition we have voted against them because of our own position, we have our own principled stand," he said.
"We take our seats to take a stand not just to take a whip from the Labour party."
Máirtín Ó Muilleoir was asked if his party might be better fighting welfare reform by taking their seats at Westminster.
"We believe in moving the centre of political gravity to Ireland," he said.
"We're an abstentionist party, but we are a party which is going to be dynamic."
https://nigra.org.uk/wp-content/uploads/2016/01/logo2.png
0
0
ACOMSDave
https://nigra.org.uk/wp-content/uploads/2016/01/logo2.png
ACOMSDave
2015-04-18 07:09:47
2019-06-11 19:13:26
Election 2015: NI political parties in first TV election debate