The White, the Gold and the Gangrene
Terry Eagleton
Dubbeljoint Theatre Company
Old Museum Arts Centre
(Reprinted from upstart April 1993)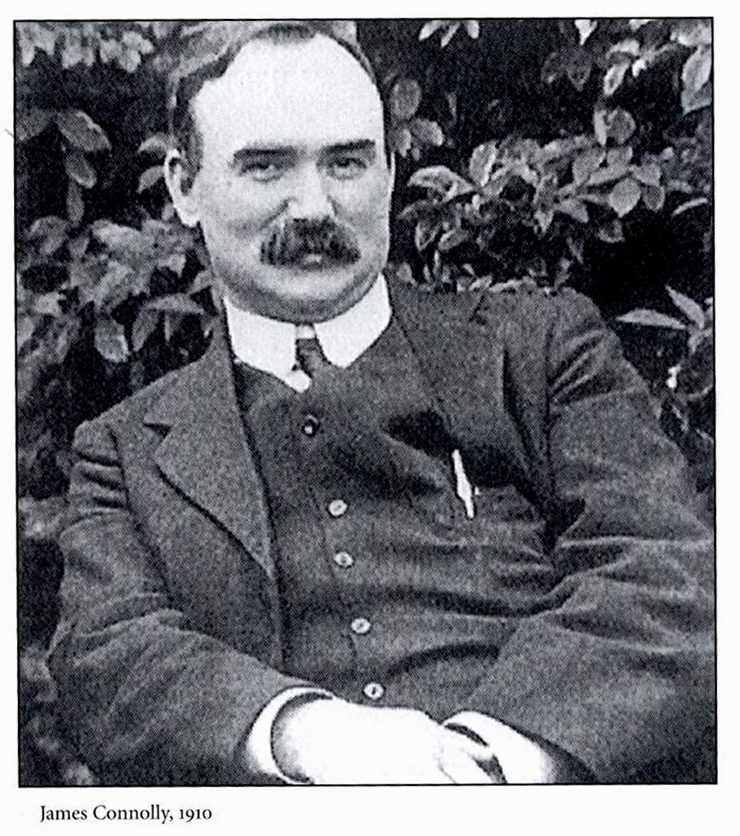 This oddly named play is about James Connolly's last few hours in the condemned cell.  The greater part of the talk – there is very little action other than Connolly (Tim Loane) hobbling about the cell or being forced to crawl about it by two warders.
These latter are given to high talk, gnomic utterances and aimless cruelty.  Given that "Connolly" appears for much of the play to be deep in untroubled sleep one might feel more sorry for their plight than for Connolly's: he is going to fulfil his destiny.  They represent a world that is passing; at least that is what they say – at great length.
Eagleton has in the past in Saint Oscar and the novel Saints and Scholars messed about with chronology.  Here he has Connolly receiving letters from one V I Lenin in charge in Moscow – more than a year before he arrived there!  And from W B Yeats, offering to become "Fuhrer".  Yeats's ghost is treated to severe abuse; he deserves it for calling Thomas Moore a "cringing firblog".
There's a lot of surface glitter in this play, but little depth.  Sitting through it does not enhance one's life.  I felt a riot coming on!  Eagleton insults nearly all the rest of the 1916 leaders, Pearse coming in for a good deal of condemnation – naturally enough.  (not to mention some rather off-colour remarks about his alleged sexuality, plus an unpleasant pantomime presumably sanctioned by Eagleton and the producer Pam Brighton which I found offensive and gratuitously anti-Gay).  Although it is all from the Warders, McDaid (Dan Gordon), implicitly a Prod, and Mather (Anthony Brophy) a genuine cringing firbolg, Connolly never puts another point of view.  McDaid is given a fair number of good speeches attacking what the insurgents in Dublin were up to in Easter Week.
This play says more about Eagleton, than it does about James Connolly.  A piece in the programme describes Connolly as "…Ireland's greatest socialist theorist and organiser.".  At the end of the action Connolly simply vanishes, not unlike a certain [other] JC, who is supposed to have vanished from a tomb around about Easter.
This play was written for people who can spot the smart-alecky references peppering the text, who may be the same people who roared at every crude word and gesture at the OMAC.  It's a bad play, the language while quite funny in parts, does not illuminate anything.  The production was pared down to the minimum, throwing all weight onto the text, which collapsed under the pressure into "more words".
Eagleton the lapsed Marxist attempted to make his play relevant to a living political situation by having them performed on the Falls Road – and Hampstead, among other places.  Judging by the deafening silence after the circus left town, the Falls wasn't impressed; neither was I.  The constant references to homosexuality in Eagleton's texts is nearer in spirit to the semi-pornographic sensationalist pulp fiction of the 1940s, '50s and early '60s than to the post-Gay Liberation idea of a "Gay sensibility".
Reviewer:  SMC
https://nigra.org.uk/wp-content/uploads/2016/01/logo2.png
0
0
ACOMSDave
https://nigra.org.uk/wp-content/uploads/2016/01/logo2.png
ACOMSDave
2015-03-19 20:34:59
2015-03-19 20:34:59
The White, the Gold and the Gangrene